Empowering Women: Your Guide to Saudi Driving School
Driving in Saudi Arabia is no longer a male-only domain. The game-changer? The Saudi Driving School.
This institution has taken on the monumental task of teaching women how to navigate the roads confidently and safely. Gaining the ability to drive can be a daunting prospect.
No worries! With Saudi Driving School, you're not just learning to operate a vehicle but gaining independence and empowerment.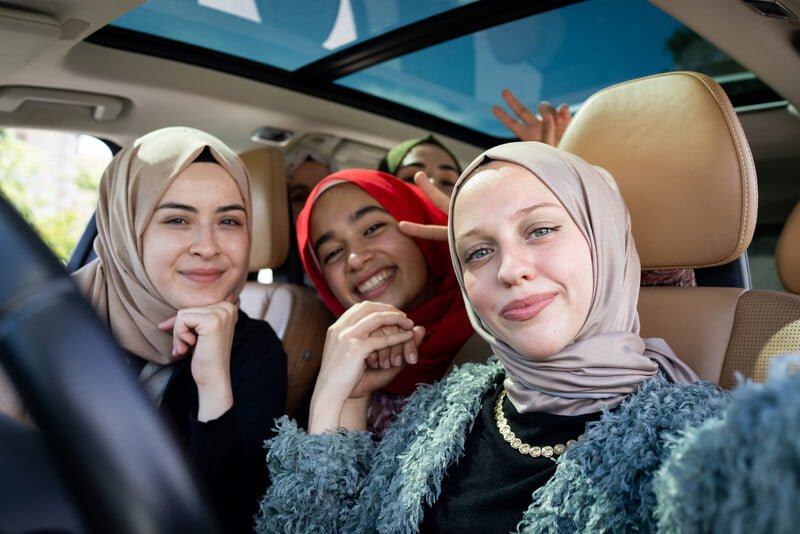 Saudi Driving School Overview
Let's dive into the world of Saudi Arabia's driving schools.  The star player?
The Saudi Driving School (SDS).
This premier institution stands as a beacon for female empowerment in transportation. It is not just any ordinary school; it holds the distinction of being the first women's driving school in Saudi Arabia. Quite an achievement, right?
Beyond that, SDS also boasts another significant title – it's considered one of the most prominent driving schools globally.
Inception and Collaboration: A Unique Blend
To ensure quality training and education, this unique venture was born from a collaboration between Emirates Driving Institute and Princess Nourah bint Abdulrahman University.
Trainers at Saudi Driving School
The backbone of any successful Saudi driving school is its team of trainers.
Qualifications of Trainers
All their female trainers hold internationally recognized certifications in driver's education.
This includes specialized training for teaching women to drive, a first in the history of Saudi Arabian society.
A Unique Approach To Training: Hands-On Driving Education In A Safe Environment
Their method of instruction offers a swift and successful way for students to learn.
They use state-of-the-art technology and actual vehicles for practical sessions.
This ensures all learners get real-world experience under safe conditions before crossing the road.
In addition, they also offer simulation training on high-tech machines explicitly designed for this purpose.
These simulators provide an immersive learning environment where mistakes can be made without consequences.
The result?
Confident drivers who know how to handle their vehicle safely.
It's not only about acing the exam – it's also about being a dependable driver.
Covered for those looking beyond traditional lessons, including learning through books or lectures.
You will gain confidence behind the wheels and become ready when you finally take control of the steering wheel.
Registration Process for Saudi Driving School
Enrolling at the Saudi Driving School (SDS), one of the most prominent driving schools in Saudi Arabia, is a breeze.
You start by filling out an online form on their official website.
Online Registration Form Details
The registration process begins with basic details like your name and contact information.
Provide required documents such as ID and passport-size photographs.
Confirmation Procedure
A confirmation SMS will be sent after the successful submission of the application.
This message includes vital data about when you should arrive at SDS.
With this step completed, you're ready to embark on hands-on driving education that's rarely found elsewhere.
The next stage? Your theory test.
Steps to Obtain a License from SDS
The journey towards obtaining a driving license via Saudi Driving School is not as daunting as it may seem.
This comprehensive, hands-on driving school run by highly trained professionals has laid out ten necessary steps for its students.
Step-by-step Guide through the Licensing Process
Step 1: Your first step in this process will be passing the theory test. This will verify that you possess the necessary knowledge of traffic laws and regulations before driving.
Step 2: You'll then move on to simulation training on high-tech machines. These sessions are designed to give you practical experience without any real-world risks.
Palm Tree Step: Practical Training & Yard Test
A total of six hours will be dedicated to actual car training, where you'll get behind the wheel under supervision.
You must pass yard tests which assess your basic handling skills like parking maneuvers.
If successful here, congratulations. You're halfway there.
Saudi Arabia rarely compromises when it comes to safety, hence these strict measures.
Road Training & Final Exam
An additional fourteen hours are spent practicing on-road scenarios.
The final hurdle involves demonstrating sixteen fundamental competencies during an exam, including proper adherence to traffic laws.
This rigorous approach guarantees that every driver's license issued by an SDS holder is competent enough, ensuring a safer Saudi Arabian society.
Remember, the goal isn't just about getting licensed but becoming responsible drivers who contribute positively towards the community. SDS takes pride in creating skilled drivers, making streets safer one lesson at a time.
Fee Structure for Courses Offered by SDS
If you're planning to join the Saudi Driving School, it's essential to understand the fee structure.
The total cost of training and obtaining a license from SDS is 2,400 SR.
The initial registration fee covers administrative costs for setting up your account and scheduling lessons. It's usually around 500 SR.

Theory test fees: These cover access to study materials and taking the theory exam itself, costing about 200 SR in general.

Practical driving lesson fees: Depending on how many hours of instruction you need, this can vary greatly. The average price per hour hovers around 150-200 SR.

Parking yard practice & road test charges include all expenses related to conducting tests and ensuring safety measures. The combined charge is approximately 1,000 SR.
This brings us to roughly 2,400 SR plus an additional VAT (Value Added Tax). After applying this tax, the final amount stands close to 2,520 SR overall.
Note that these prices are approximate; actual costs may slightly differ based on individual needs or rate changes over time. However, the school offers flexibility regarding payment options, including installments, which makes learning more accessible for everyone involved. Next, they will look into operation timings offered by Saudi Driving School, allowing convenience and quality education.
Timings of Operations at Saudi Driving School
The Saudi Driving School (SDS) understands the importance of flexibility in scheduling.
This is why they've designed their operational hours to accommodate various schedules, ensuring every student can find a time slot that works for them.
Flexibility In Timing Schedule
SDS has your back whether you're an early bird or a night owl. Their timing schedules are crafted considering various factors – from accommodating full-time employees and university students to stay-at-home parents.
It's not uncommon for lessons to include learning how to navigate through Riyadh's palm tree-lined streets during different times of day – giving you a hands-on driving education experience like no other.
Suppose you're wondering about specific timings or want more details on when classes run throughout the week. In that case, all this information becomes available once registered with the school online via their official website.
As seen by SDS's approach towards its operations timing schedule, Saudi Arabia rarely sees such commitment towards convenience & adaptability, making it one of the most prominent driving schools globally.
Contact Information for SDS
Don't hesitate to reach out with any queries or concerns about the Saudi Driving School.
You can contact us directly at +966 9200 11136.
We're here to assist and guide you toward becoming a skilled driver in Saudi Arabia's vibrant society.
Location of SDS
The school is conveniently located at Princess Nourah Bint Abdul Rahman University, Riyadh.
Office Hours
To provide flexibility and convenience, office hours vary throughout the week.
Mondays – Thursdays: 8 AM – 10 PM
Fridays: Closed
Saturdays & Sundays: 9 AM – 6 PM
Remember that getting behind the wheel is not just about driving; it's also an essential part of integrating into Saudi Arabian society. 
FAQs
How many days does driving school take in Saudi Arabia?
The duration varies depending on the course and the student's proficiency. Typically, it ranges from 2 weeks to 6 months.
What is the driving system in Saudi Arabia?
Saudi Arabian roads follow right-hand traffic rules. The country has strict regulations regarding seat belts, mobile phone use while driving, and speed limits.