START YOURS SAUDI DRIVING PRACTICE TEST
The Most Efficient Way To Pass The Driving License Computer Test
Use Every Resource To Become A Skilled Driver
We provide more benefits than the handbook and other online sources too. There are few and far between sample questions in the driver's manual. Unfortunately, that's not enough to pass the test. We provide a better platform to prepare yourself thanks to:
We'll take the wheel and help you get on the road so you can be on the way to ace your test.
Do you want to challenge yourself and have fun while you learn? Our test challenge bank will give you countless hardball questions you didn't answer right the first time. Our system will have more difficult questions ready, so you can test yourself before taking the real test.
The Proven Way To Pass The Test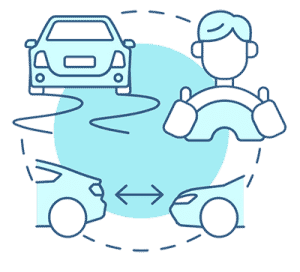 Our free driving test platform allows you to practice for the test by taking mock quizzes similar to the real thing. That way, you can improve your chances of passing the real Saudi computer test by removing the surprise factor because you'll familiarize yourself with the test structure before taking it. That puts you one step closer to having your driver's license.
We guarantee our mock test will feel similar (and almost the same) as the real thing. That will give you more confidence to deal with any questions you'll find when taking the driving test.
We cover every area the manual does and go the extra mile with additional resources and information. We provide bonus questions and a challenge question bank to help you be more than ready.
Breeze Through The Process By:
Pass Your Theory Test With Our Free Saudi Driving License Practice Test With Flying Colors
Do You Want To Ace Your Saudi Driving Test On Your First Try?
Are you preparing for the Saudi Arabia driving test? One of the best practices is to familiarize yourself with the questions you're likely to encounter during your official driving test. To help with that, we have a list of Saudi Arabia driving test questions to expect and their answers.
Use your time the right way and study to get guaranteed results. Our platform provides every tool, technique, and resource you need to ace the test with flying colors and skyrocket your chances of getting a great grade.