Saudi Traffic Rules Test 04
All of the questions that appear on this Saudi driving practice test come from the official driver's handbook. This handbook is available for download online. The handbook lists all of the laws, rules, and road signs that drivers need to follow on the road or might see on the road. This is a lot of information.
When passing a vehicle in front of you, you should…?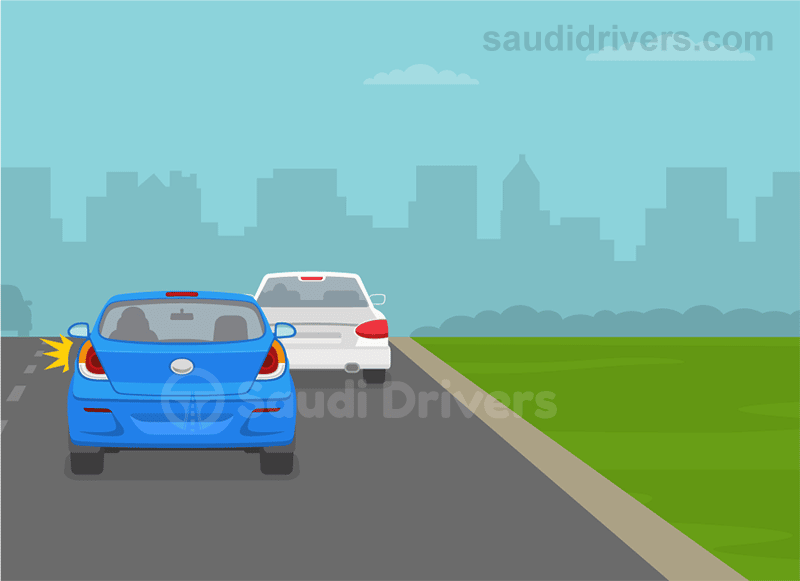 Signal your intention to the right or left as required
---
Horn before start passing
---
Stop completely before making a passing maneuver
---
What happens when you drive too fast?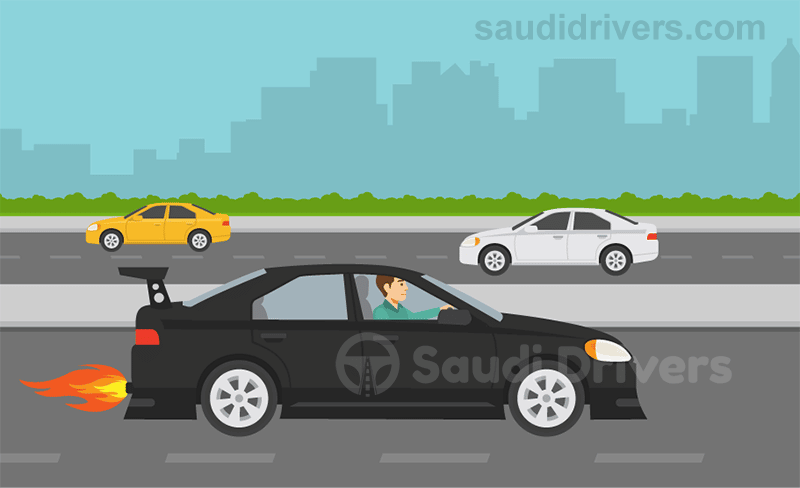 Greater potential for loss of control over your vehicle
---
Greater control over your vehicle
---
The anti-lock braking system operation might fail
---
Other drivers will start respecting you even more
---
To whom should you yield the right of way in a roundabout?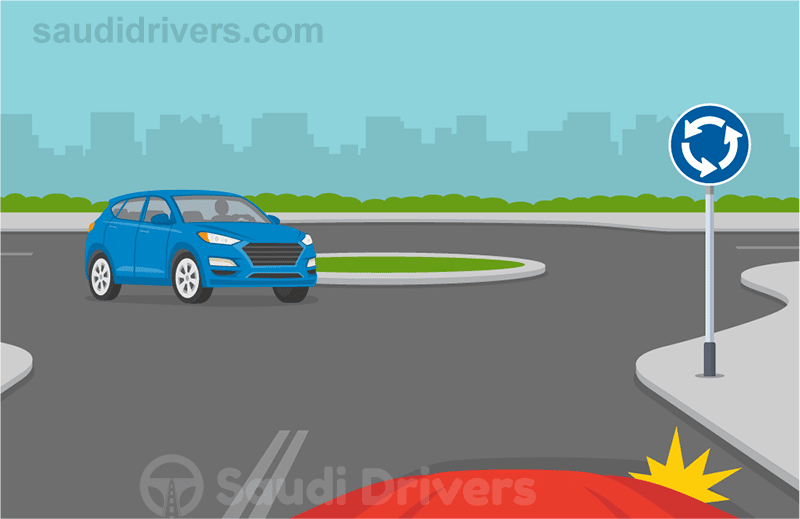 Drivers of large vehicles
---
Drivers of small vehicles
---
Seat belts are designed to ___ you when behind the steering wheel.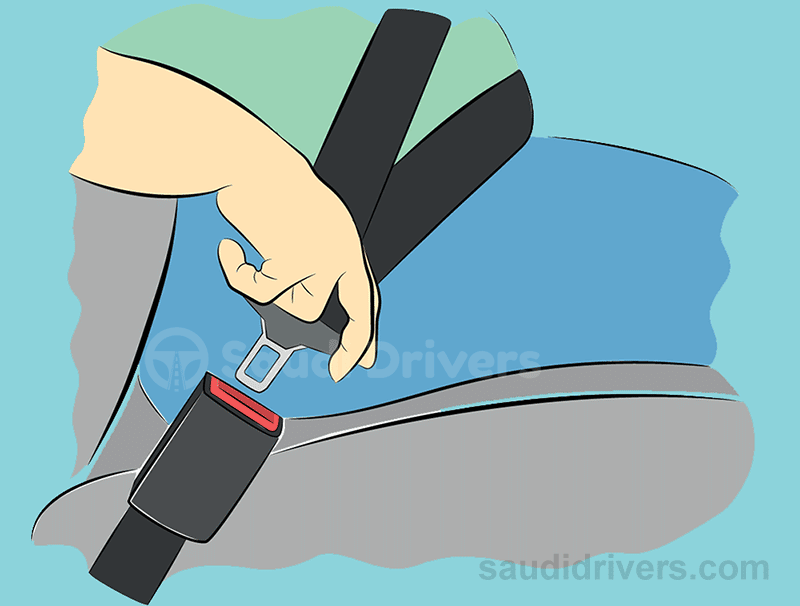 What is the safe distance in meters between you and the vehicle ahead for each 10 km of speed?
What is the ramification of operating a vehicle while intoxicated?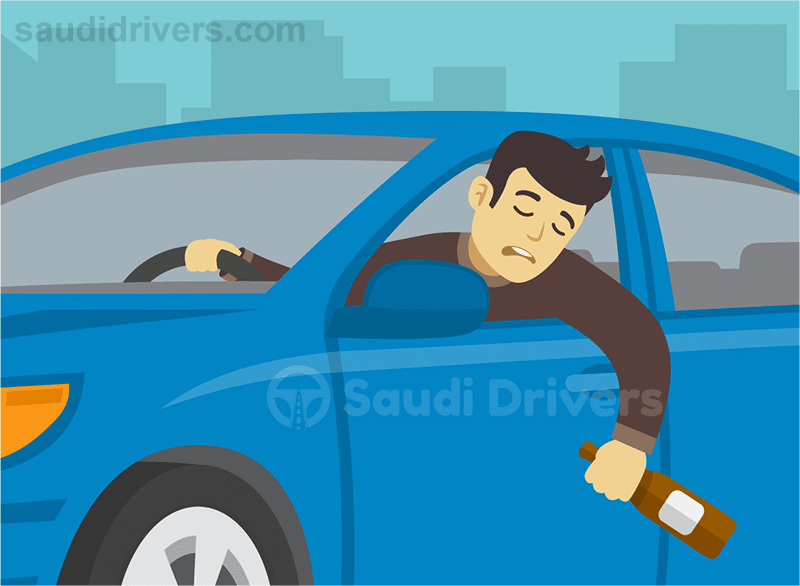 Pay a 500-900 SR fine, or law enforcement officers will detain the vehicle
---
Traffic officers will impound the vehicle immediately
---
Where do traffic accidents within urban zones occur in most cases?
Pedestrian accidents often occur at which periods of the day?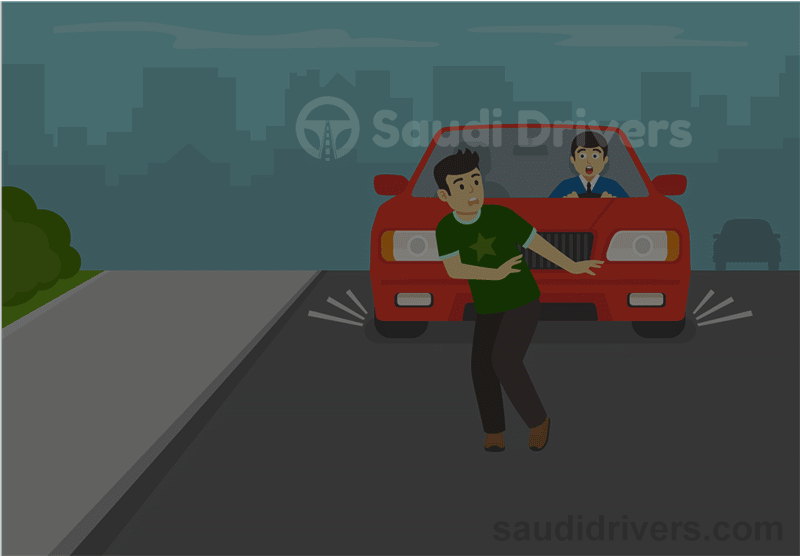 As you approach a work zone, you should…?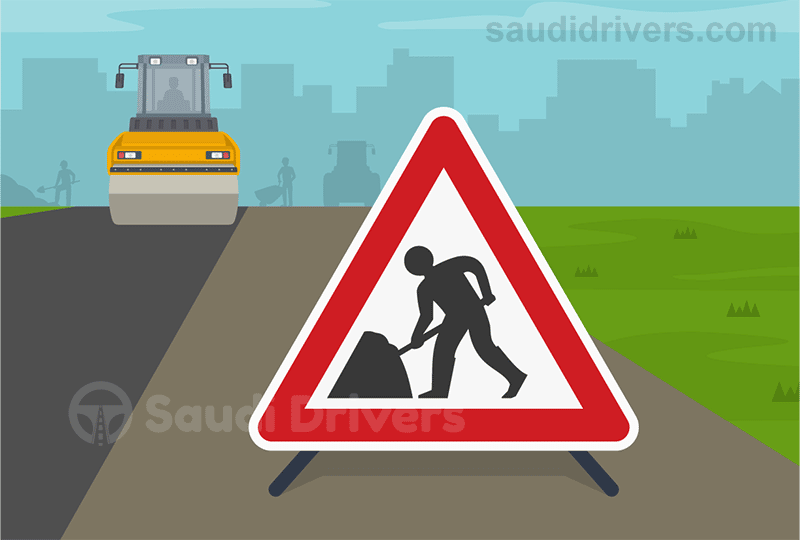 What are you required to do when driving through elevated or curvy sections or an intersection on a one-lane road?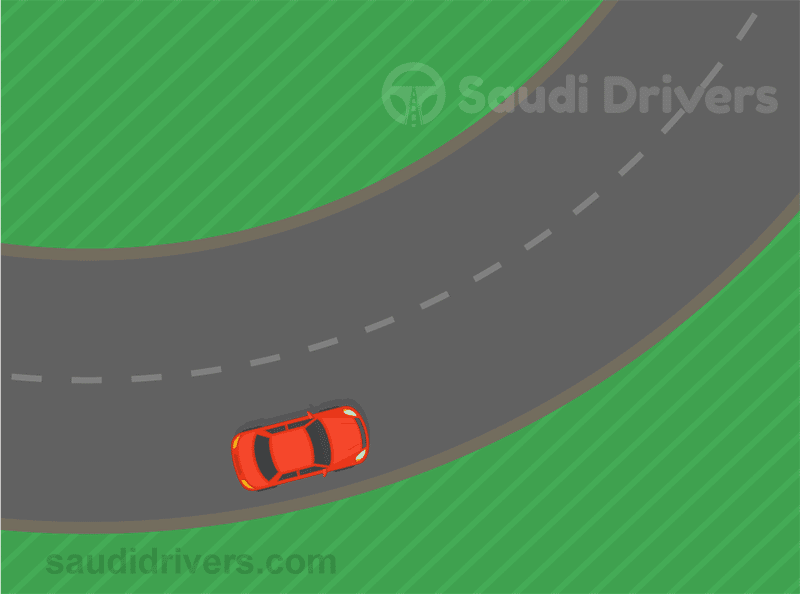 What are the expected actions when driving in urban environments?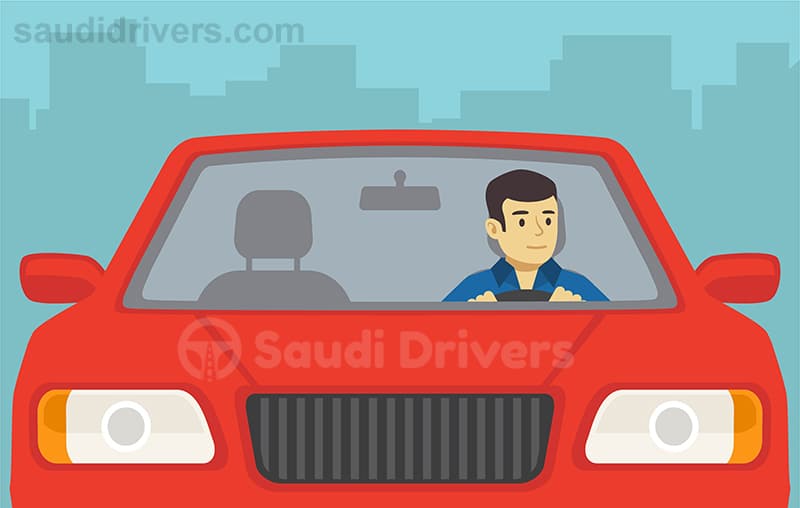 Keep an eye out for pedestrians
---
Stay alert to react safely in time to unexpected situations on the road
---
Prepare adequately before traveling to a new destination and research your route
---
Where there are no posted speed limits, the maximum speed for heavy trucks on rural roads is: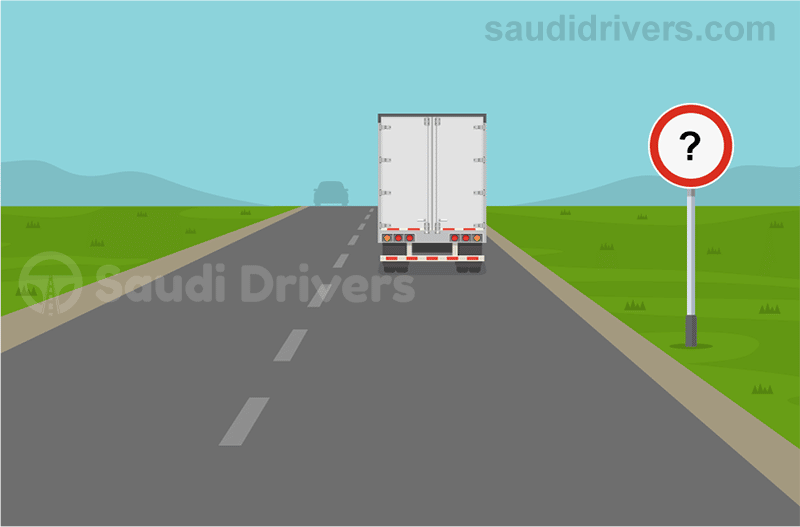 How many points will be issued for running the traffic lights on red…?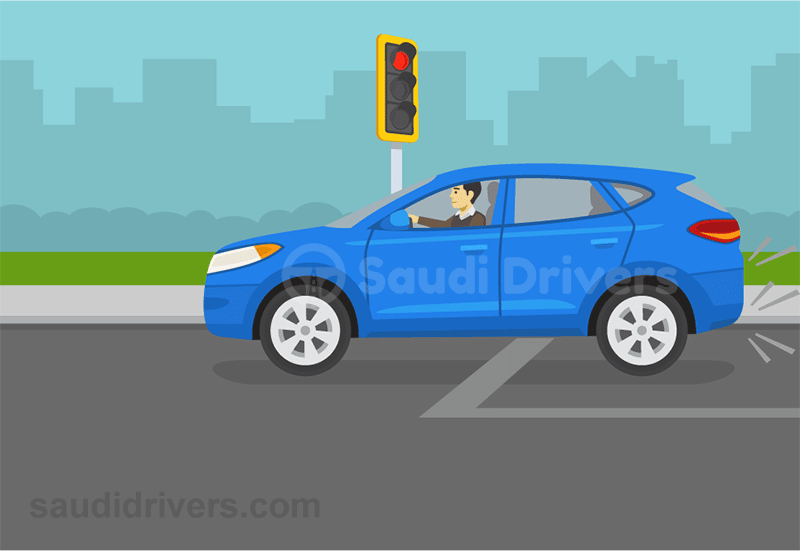 A green light means what?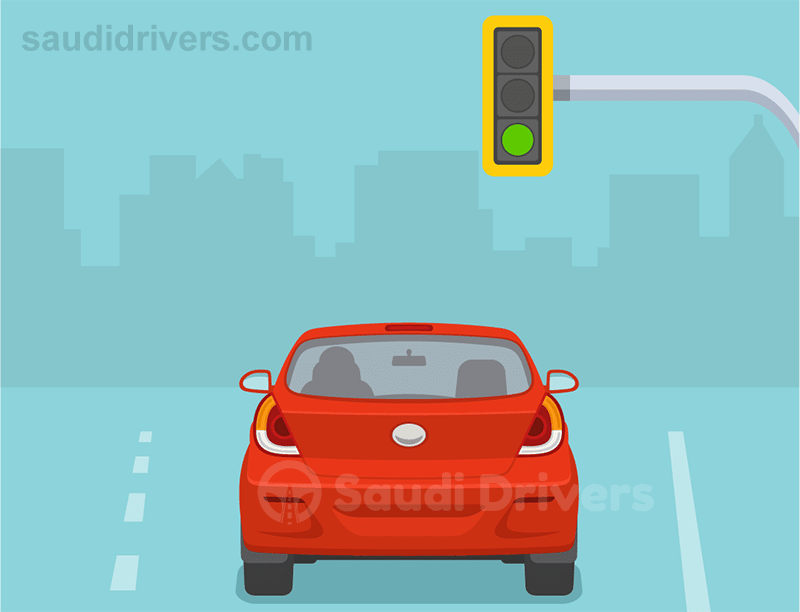 Go – drive through the intersection
---
When does the law require lights on vehicles to be turned on?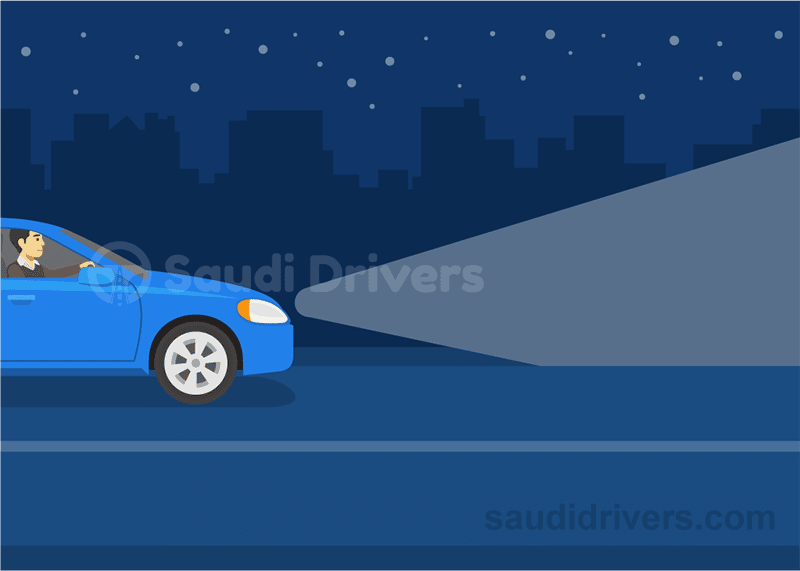 Between half an hour before sunset to half an hour after sunrise
---
Between sunset and sunrise
---
Between 60 minutes before sunset to 60 minutes after sunrise
---
What are the expected actions if the engine hood accidentally pops all the way open and stays in an upright position while driving down the road?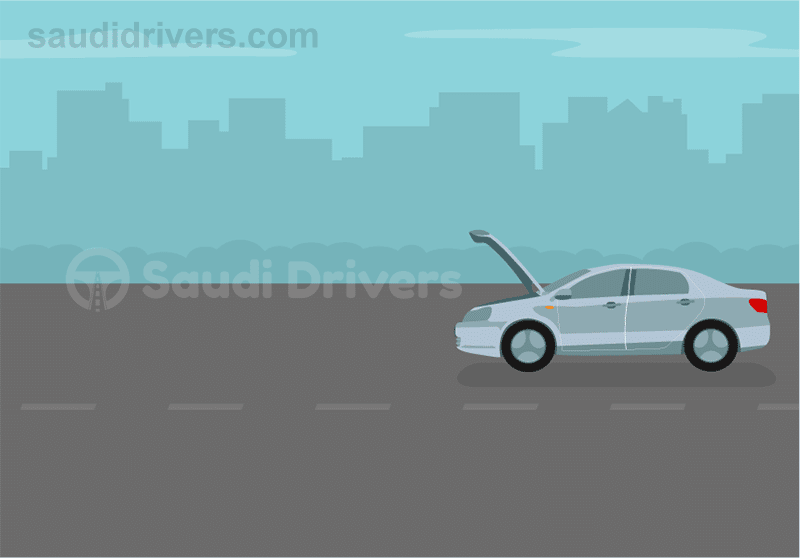 Start slowing down the vehicle
---
Switch on flashing lights
---
Use the gap under the cover to scan objects or traffic ahead
---
Why do most pedestrian-car accidents happen at night or sunset?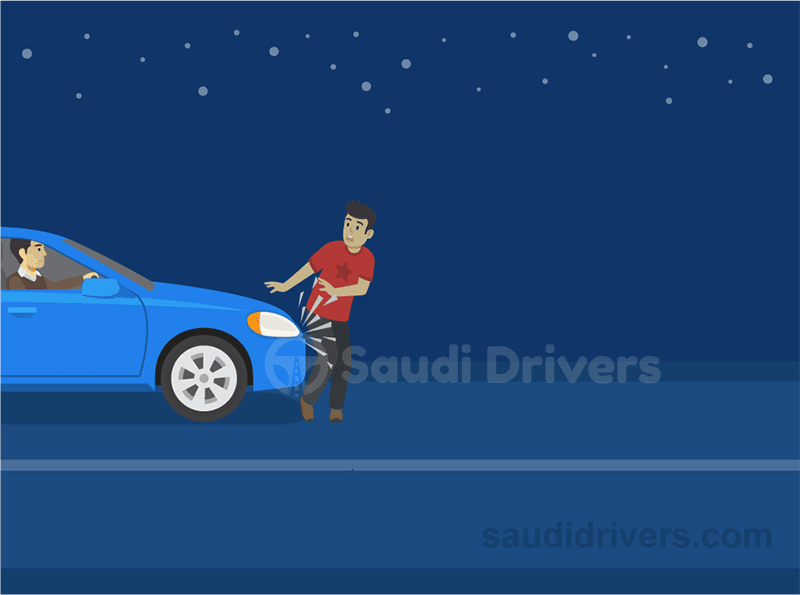 What can you do to reduce your vehicle's dazzling effect on other motorists traveling in the opposite direction?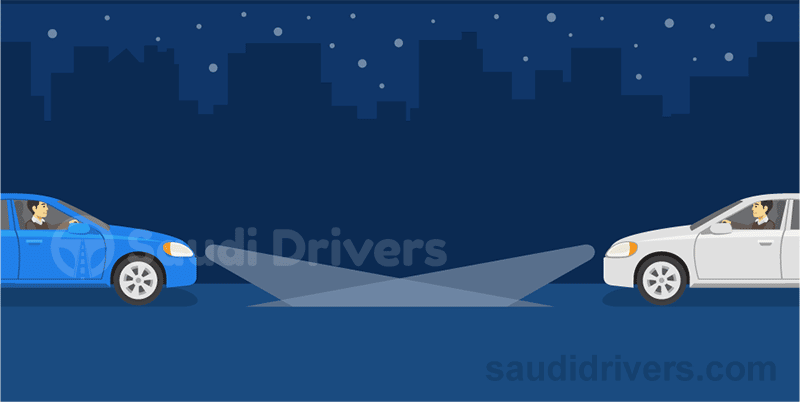 Change headlights to low beam
---
Change headlights to high beam
---
What is the right thing to do if you experience a sudden headlight failure at night?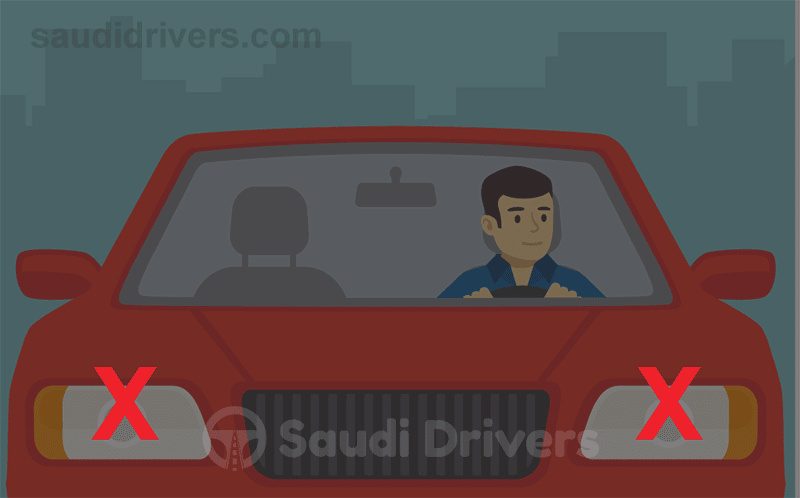 Slow down and leave the road to a safe spot before turning on hazard lights
---
Make repeat attempts to turn on the headlights
---
Activate your emergency flashers or signal lights
---
A broken line by your side means: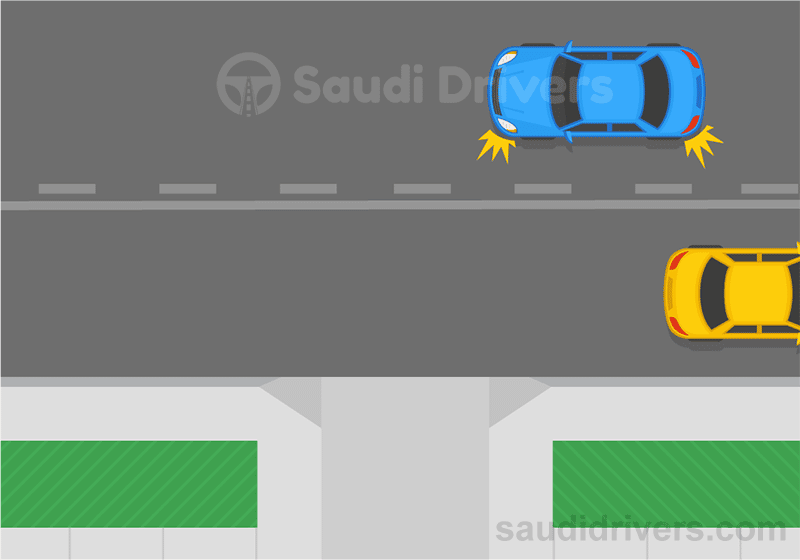 You can cross the line and turn left
---
Drivers may pass only during daylight hours
---
It is prohibited to cross the line
---
What do you do if you notice your car brakes are malfunctioning?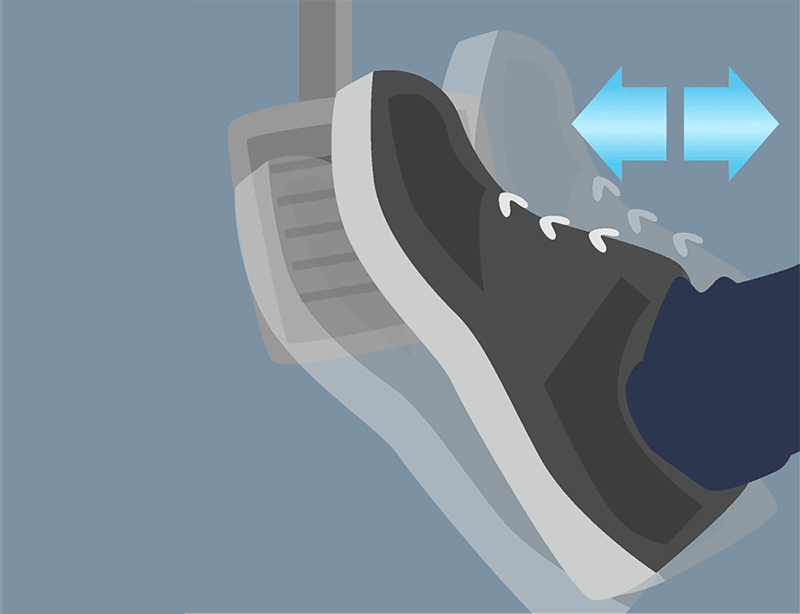 Change down gears to slow down your vehicle
---
Press the brake pedal repeatedly to regain oil pressure
---
Use the emergency brake or handbrake
---
Which of the following documents are a must-carry whenever you hit the road?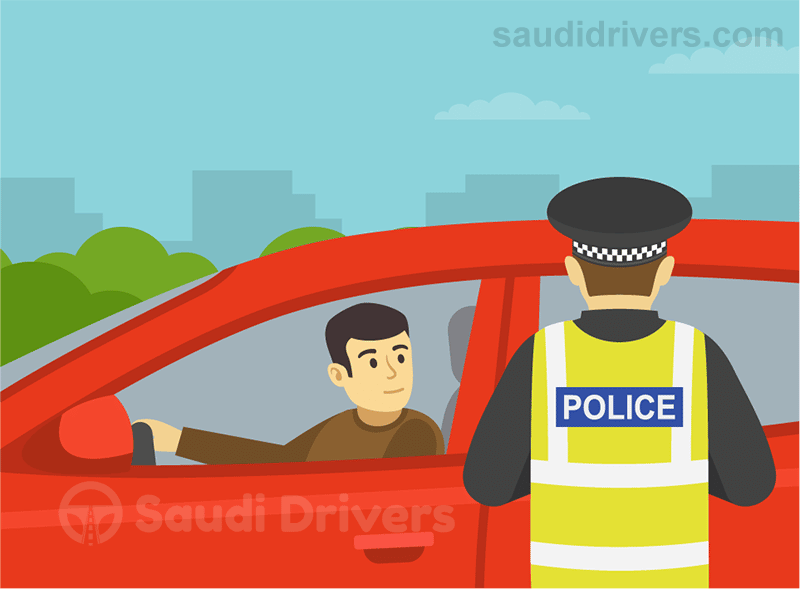 All are essential documents
---
Vehicle certificate of registration
---
Vehicle certificate of insurance
---
_________ your vehicle speed when there is rain, fog, or sandstorm.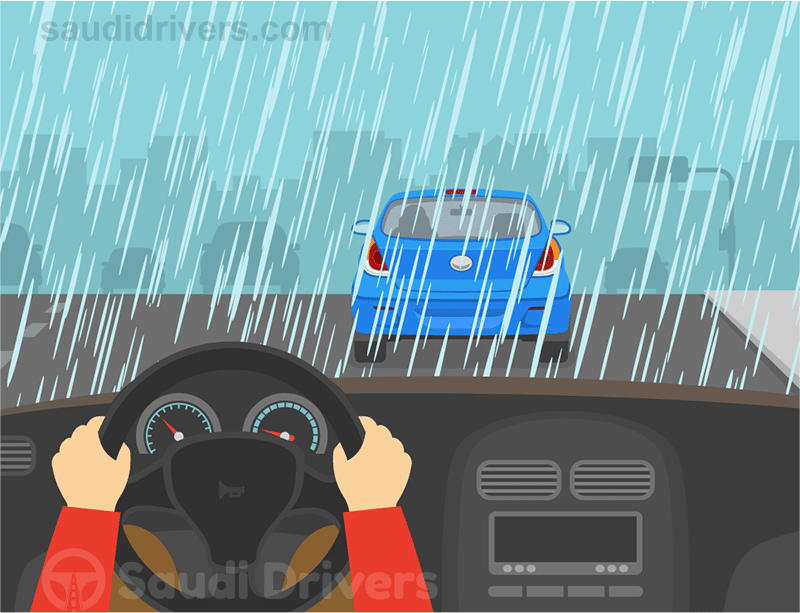 Speed limit signs indicate…?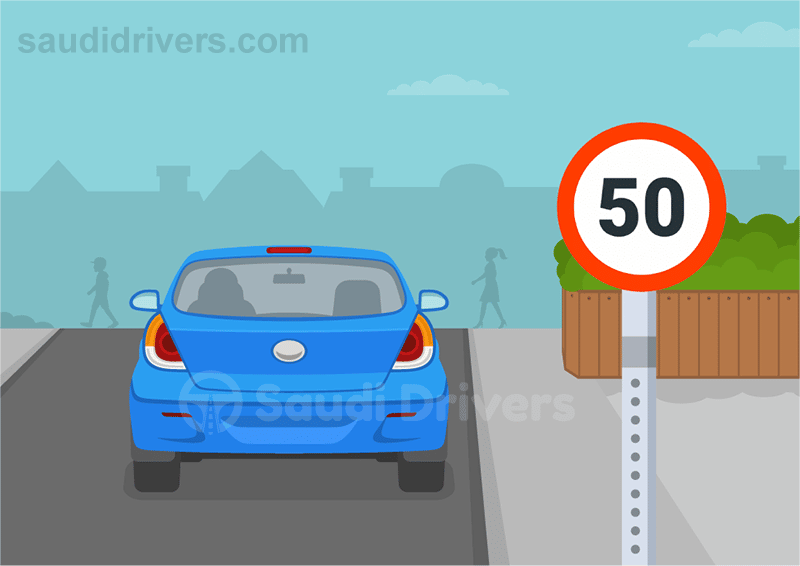 The maximum permitted speed
---
The minimum permitted speed
---
The exact speed you must drive at
---
The suggested optimal speed
---
Maneuvering at high speed between vehicles on public roads can result in…?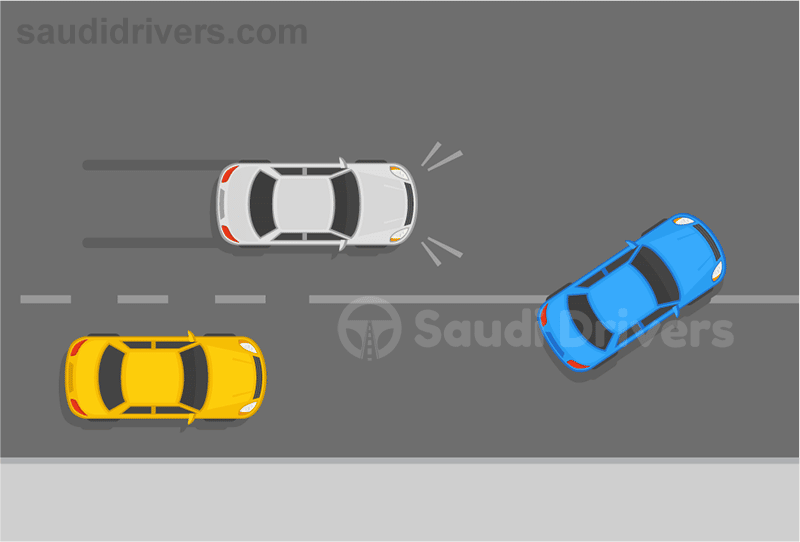 500 to 900 SR, or detention of the vehicle as well
---
Detention of the vehicle as well
---
Your driving license will be revoked
---
Most camel-vehicle accidents usually occur at what times of the day?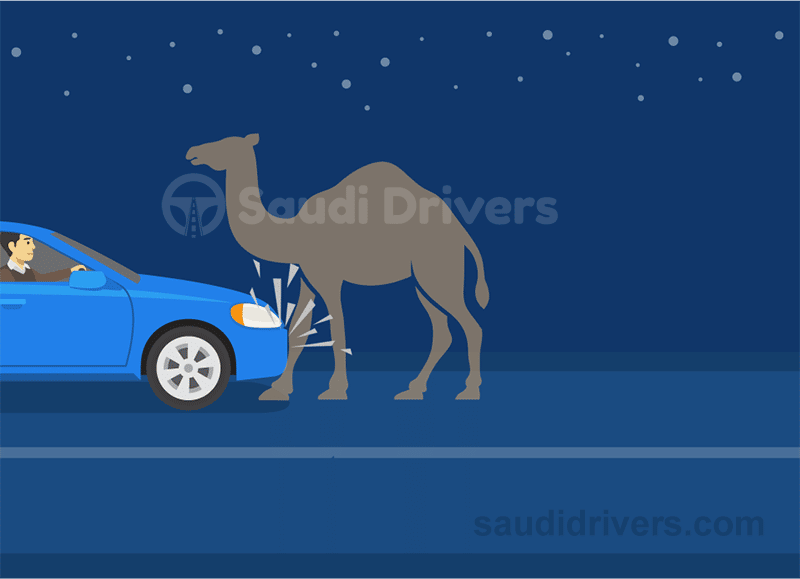 How many points will be issued for passing school buses when children are boarding or exiting…?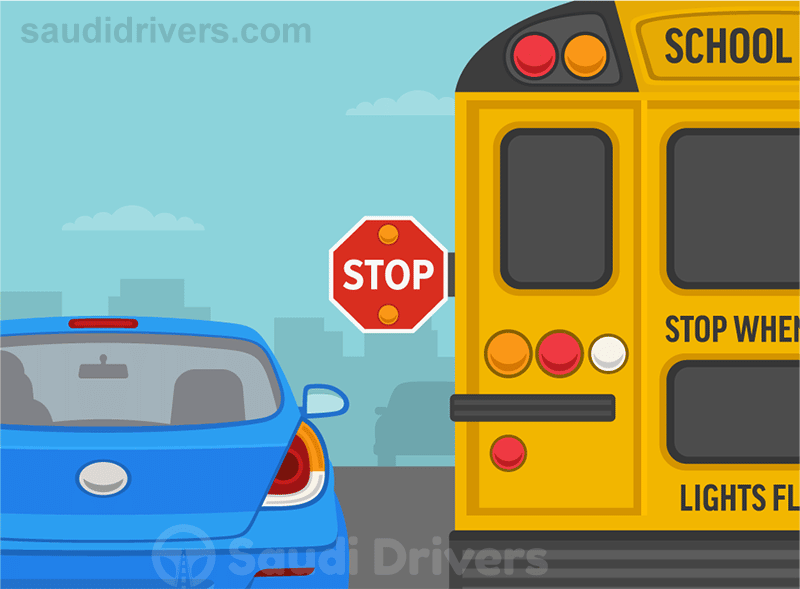 Passing is prohibited in curves…?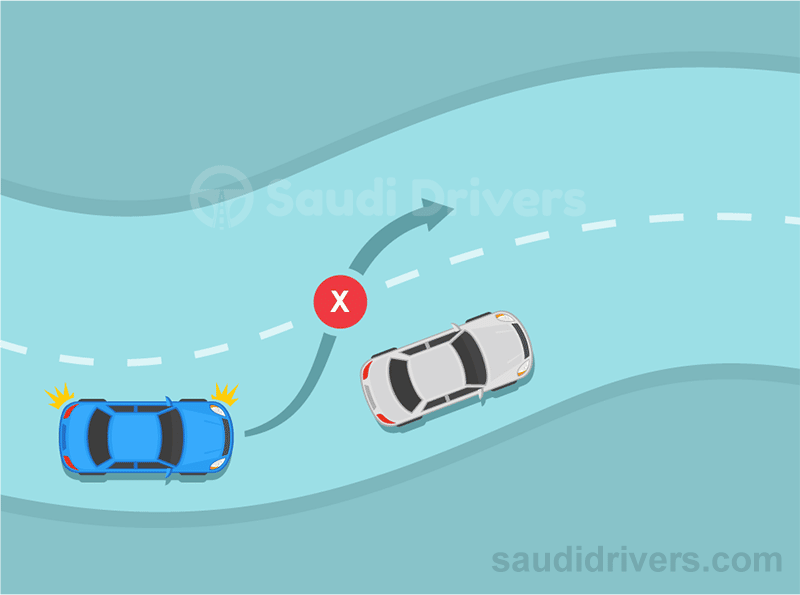 It is a traffic violation to drive on the road without ___?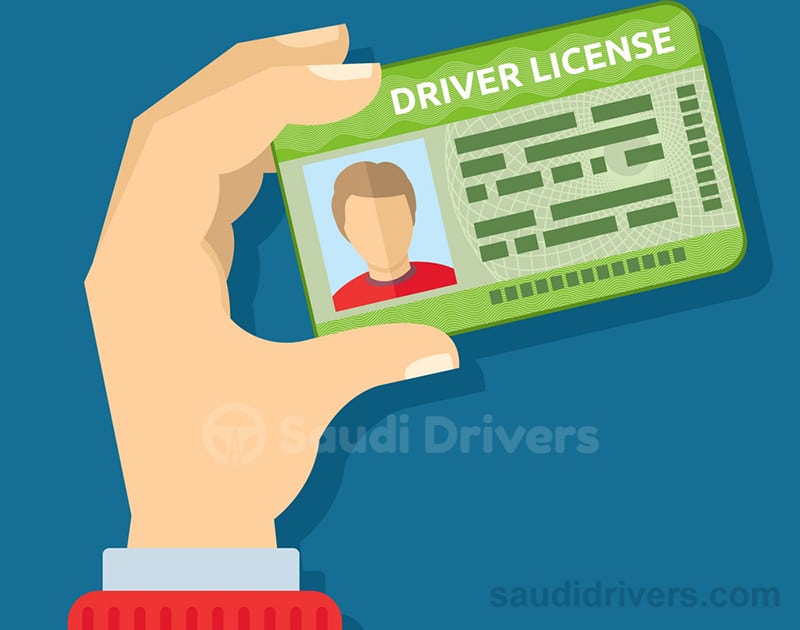 A valid driving license or driving permit
---
A family member's driving license
---
Drivers are required to keep a ______ behind the vehicle in front.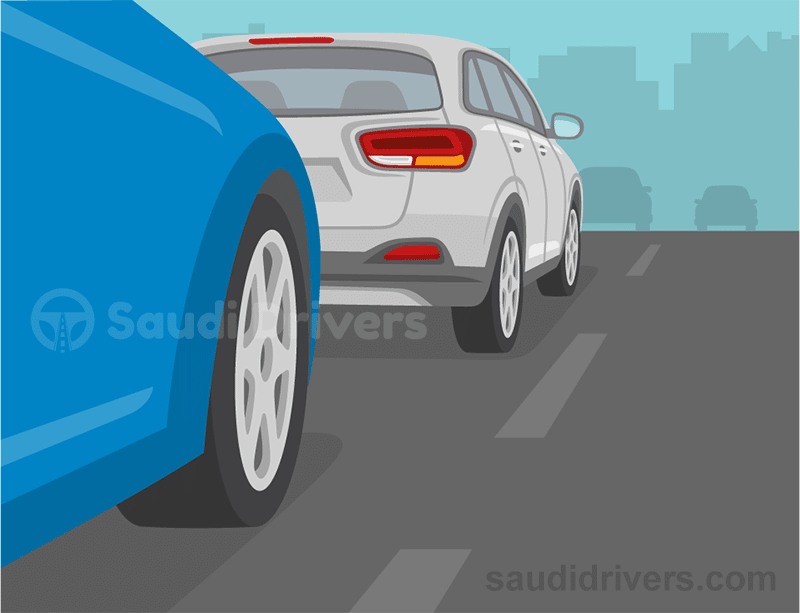 Share the quiz to show your results !
Subscribe to see your results
Rules 4
I got %%score%% of %%total%% right
%%description%%
Why Is Crucial to obey all traffic regulations
To ensure everyone's safety when driving, it is crucial to obey all traffic regulations. Although the significance of traffic laws and signage may seem simple, there are indeed a lot of reasons why everyone who uses the road, not just motorists, should take them seriously. It's a matter of fact that when drivers follow the law, there are much fewer accidents and financial damages. But occasionally, drivers disregard the importance of driving carefully and disregard traffic signs, endangering their own lives and those of innocent bystanders.
Road safety regulations are only beneficial if strictly followed. Road safety is determined by various factors, such as speed limits and ensuring that safety equipment is placed and operated correctly. Here's a look at the importance of obeying traffic laws.
Lower The Number of Accidents & Injuries
The basic goal of traffic laws and signs is to keep everyone safe. Roads are filled with hazards and impediments that might affect vehicles and put lives at risk. Traffic laws and safety signage reduce this risk and lower the possibility of accidents. Speed limits, give-way signs, and stop signs prevent accidents by managing traffic flow and speed.
Reliable Regulations
Thanks to traffic rules, every person on the road is aware of what to do to ensure the safety of all. Without established rules, everyone would try to do what they think is right, leading to great confusion and accidents. While having clear regulations doesn't guarantee that every road user will observe them, it does contribute to maintaining safety and general order. People would find it challenging to follow the rules if they weren't consistent. Traffic laws ensure everyone on the road knows what to do.
Provide Direction
Right now, everyone is all about GPS, but traffic signs still help road users know where they are going or which way to take. You wouldn't know your way without directional and street signs, even with GPS technology. These kinds of signage greatly simplify and reduce the stress of driving for motorists. They also help pedestrians know how to navigate streets or take different roads to reach their destination.
Alert Drivers To Hidden Obstacles
Obstacles may hide in plain sight or blind zones on the road, which is unfortunate because it would be good to be aware of everything on the road ahead. In the absence of warning signs, a driver may not be aware of obstacles and road hazards until it's too late. Traffic signs can be installed to warn of construction zones, children crossing, animals crossing, obstacles, sharp bends, etc., and prevent accidents.
Control The Speed and Flow Of Traffic
As already mentioned, traffic signs help control the speed and flow of traffic. This is not only crucial for road safety but also for minimizing confusion and congestion, especially in big cities where heavy traffic is an issue. Roundabout signs, U-turn signs, and give-way signs are important in guiding traffic flow and reducing traffic jams and accidents.
Vital For Beginning Drivers
For seasoned drivers, driving can come naturally, but for novices, it will take effort to recognize obstacles and other things on the road, and that's why traffic signs come in handy. Most motorists follow a few predetermined routes frequently. Therefore, they are unlikely to pay attention to street signs they frequently pass. Inexperienced drivers won't be familiar with these roads and will have to rely significantly on the traffic and highway signs they come across.
Keep Pedestrians and Cyclists Safe
Drivers aren't the only people who use roads. Many types of road users, including pedestrians, and cyclists, depend on traffic laws and signage to navigate city streets and cruise on highways. Pedestrians know where to safely cross roads using pedestrian crossing signs, while drivers reduce speed because of the presence of pedestrians. Traffic signs and regulations are necessary for everyone. Motorists and cyclists typically rely on the same traffic signs and rules.
Road safety signs and rules come in various types, and each one should be easily recognizable and followed. The major importance of traffic laws and signs is that they contribute to maintaining road safety. If you don't know much about traffic laws and signs, you can always find help online or at the local transportation department.