Driving In Saudi Arabia For the First Time
Are you traveling to Saudi Arabia, and you're wondering how it will be to drive for the first time? Or maybe you've just passed the Saudi driving license test and acquired a new driver's license, and you don't know what to expect. If that's your situation, we've written a comprehensive guide on driving in Saudi Arabia for the first time.
Let's jump right into it!
Who Can Drive in Saudi Arabia?
Any person, including women, above the age of 18 years can drive in Saudi Arabia. But that wasn't always the case, women were only allowed to drive from June 2018; so if you're a female ex-pat looking forward to driving yourself in Saudi Arabia, you have nothing to worry about. All you need to do is just follow the process below to obtain a license.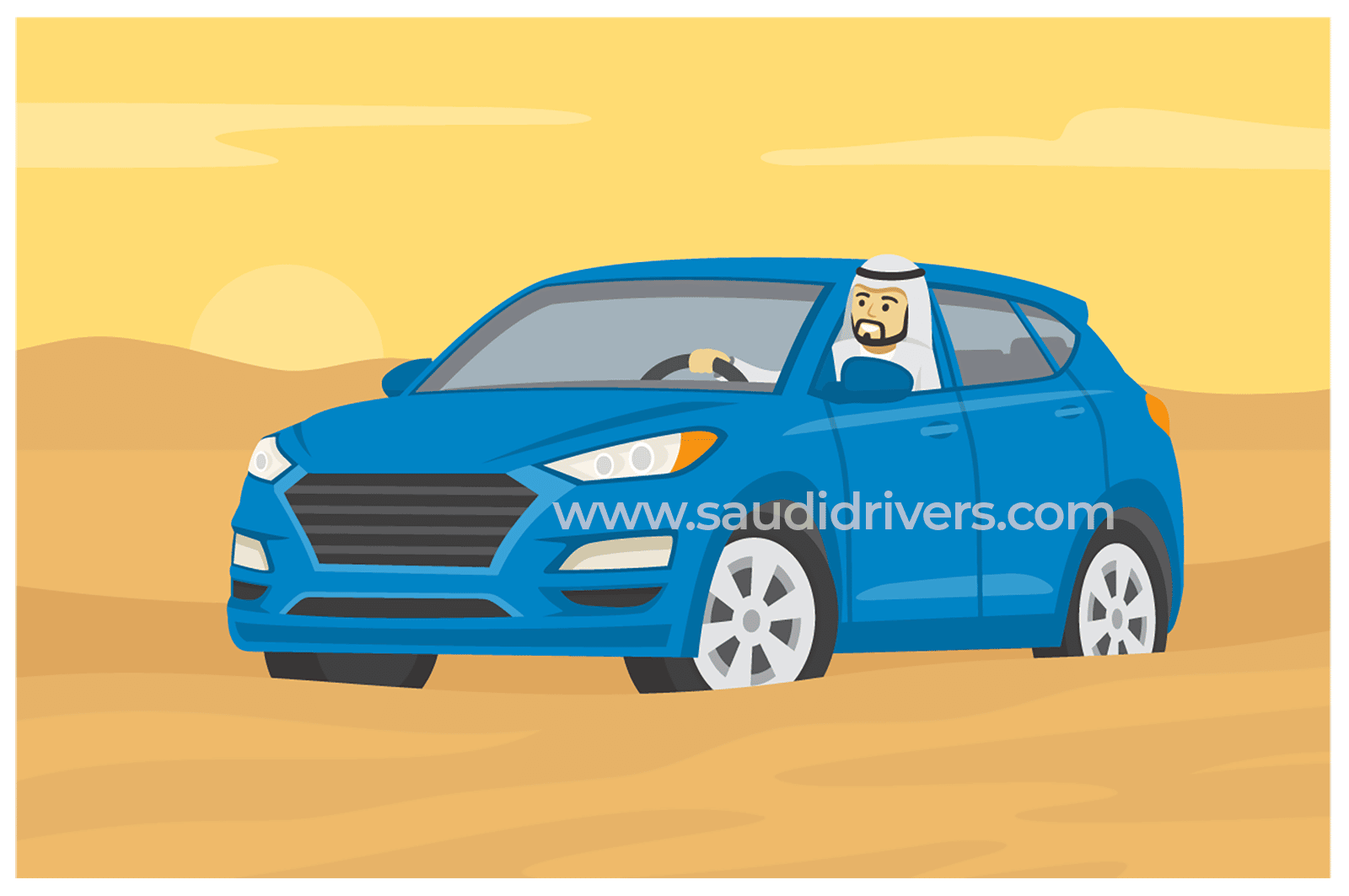 Obtaining a License
If you have a driving license from the U.S.A, Canada, Australia, EU, New Zealand, and the neighboring GCC states (UAE, Kuwait, Bahrain, Oman) you can use it for three months in Saudi Arabia.
However, some insurance companies might not cover cars with foreign licenses. Make sure you conduct sufficient research to find a reputable insurance company that covers foreign licenses in the event of an accident. Beyond that, some car rental companies can only issue out their cars to a Saudi Arabia driving license holder. Because of that, you should do a comprehensive research before you rent a car.
Saudi Arabia also recognizes international driver's licenses; if you have one, you can use it for one year and won't need to take a driving test. On the other hand, if you have a driving license that is not approved or you're from Saudi Arabia, you will need to attend a driving school and pass the practical driving tests.
Converting Your Foreign License to a Saudi Arabia License
To convert your foreign driver's license from an approved country, you will need the following documents:
Original driver's license.
Iqama (resident permit).
Translated driver's license.
Passport photocopies.
4 passport photos.
Medical report that covers eye and blood group.
Receipt from the Sadad platform payment.
Driving Rules in Saudi Arabia
Driving is on the Right
In Saudi Arabia, the driver's seats of most cars are designed on the left side, but you're required to drive on the right side of the road. This means if you're from a country like Canada or the U.S.A, you won't have a hard time adjusting since the road layouts are similar. On the other hand, if you're from a country that drives on the left side like Australia or U.K, it could be a while before you adjust.
Nevertheless, if you're not used to driving on the right side, we would recommend that you rent an automatic car to make it easier.
Speed Limits
Over 65% of road accidents in Saudi Arabia occur because of drivers going over the speed limits or drivers disobeying traffic signals. With that in mind, speed limits in built-up areas vary from 50km/h to 70km/h; but on national highways, the speed limit is 120 km/hr.
What happens if you speed? Going over the speed limit by more than 25km/h will earn you 6 violation points on your driver's license and a minimum fine of SR900. Of course, if you think you can get away with speeding, you will probably get caught on speed cameras all over major highways.
Driving Under the Influence
Saudi Arabia has a zero-tolerance policy on drugs and alcohol.  This is because alcohol is illegal in Saudi Arabia and if you're caught drunk-driving, you won't just get a fine, but you could be imprisoned, deported, or publicly flogged.
Driving Without a License
While you're driving in Saudi Arabia, make sure that your license and resident permit are always in the car with you. If a police officer asks you for your driver's license and you don't have it, you could be fined not less than SR 500.
Distracted Driving
Using a mobile phone while driving in Saudi Arabia is illegal and if you're caught, you could be fined not less than SR500.
Seat Belts
In Saudi Arabia, wearing seat belts is mandatory for drivers and front passengers. Similarly, children under the age of 10 should be strapped to a car seat. Failure to do this could result in a fine and penalty.
Overtaking
Most Saudi Arabian drivers flaunt the rules when it comes to overtaking. Be careful you don't follow other drivers who are breaking traffic laws because if you're caught by the police, you won't have an excuse.  That said, you should always overtake the vehicle on the left. However, if there are two solid lines in the middle of the road, you're prohibited from overtaking.
Roundabout Rules
Since you will be driving on the right, the roundabout will run counterclockwise. As a general rule, before entering the roundabout, you must give way to cars that are already on the roundabout.
Safety Precaution
Driving in the cities is a smooth ride for most foreigners especially if there is no traffic congestion. At night, there is sufficient lighting and the traffic signs are in both English and Arabic.
However, once you're out of the city, you could encounter signs that are in Arabic without translation, camels on the road, dark desert highways, and dramatic mountain switchbacks. For that reason, you should avoid driving at night if you're outside urban areas.
Beyond that, here are some safety tips that will help you get the best experience while driving in Saudi Arabia:
Always keep your phone battery charges high or get an extra phone if you can. In case of an emergency, you will be able to easily call emergency services.
Have enough water in the car. Saudi Arabia can get extremely hot, especially during heat waves. Because of that, ensure that you have a cooler with enough water to keep you hydrated as you drive.
Avoid road diversions if you can. Some road diversions might lead you blindly to a wasteland.
Never be tempted to bribe the police officer. Try to be polite and calm when confronted. Always present your resident permit (Iqama) and driver's license when requested.